Emails are one of the primary forms of communication, particularly for businesses. One often overlooked aspect is the email signature, which serves as a powerful tool to leave a lasting impression. Find out what elements contribute towards a good email signature helping your business create a professional and impactful digital identity.
Conciseness is Key
An effective email signature is concise and to the point. It should provide the necessary information without overwhelming the recipient. By including only the essential details, such as your name, job title, and contact information, you ensure that recipients can quickly identify and reach out to you.
Contact Information
The primary purpose of an email signature is to provide contact information. Include your phone number and email address to make it easy for recipients to get in touch with you. Additionally, consider adding links to your personal professional social media profiles if they are relevant and contribute to your professional image.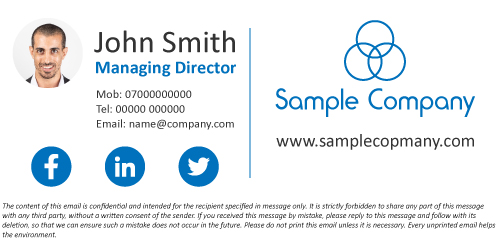 Visual Branding
Incorporating visual branding elements in your email signature can enhance recognition and reinforce your professional identity. Consider including your company logo, which helps recipients associate your correspondence with your organisation. Maintain consistency with your brand's colours, fonts, and overall design to establish a cohesive visual presence.
Links
If you have relevant online assets, such as a website, portfolio or blog, including them in your email signature can showcase your work and provide recipients with additional insights into your business. However, exercise restraint and limit the number of links to those directly related to your professional endeavours, ensuring that they add value to your signature.
Legal and Compliance Considerations
Depending on your industry or organisation, you may be required to include legal disclaimers, confidentiality notices, or compliance statements in your email signature. Be mindful of any legal obligations and incorporate them appropriately. However, strive to maintain a balance between compliance and keeping your signature uncluttered and visually appealing.
Simplicity and Readability
A cluttered and overwhelming email signature can distract from the message you want to convey. Opt for a clean and uncluttered design, allowing the recipient to focus on the content of your email. Choose fonts, font sizes, and formatting that are easily readable across devices and email clients, ensuring that your signature remains legible on desktops as well as mobile devices.
Mobile-Friendly Design
With the rise in mobile email usage, it is essential to create a mobile-friendly email signature. Avoid using large images that may slow downloading times or distort the signature's layout. Optimise your signature for different screen sizes to ensure it remains visually appealing and functional, regardless of the device used by the recipient.
By paying attention to the elements outlined above, you can create an effective email signature that leaves a positive and lasting impression on recipients.
We can create and host your business email signatures to ensure continuity across all users and devices. Find out about Carrera's Hosted Email Signature service here.
About Carrera UK
Carrera UK provide IT support, IT services, and telecoms to small businesses in Portsmouth & Southampton in Hampshire, and across the South of England.
We offer a complete suite of IT and telecoms service solutions for small and medium-sized businesses, including IT support, website design, social media management and cyber security.
We know how important IT is to your business and we will work hard as your trusted IT and telecom service provider to find the best solutions for you. Our IT support and solutions give you the assurance that your business technology will be robust, reliable, and cost-effective.