Phishing emails have become more sophisticated to avoid detection. But that doesn't mean that there aren't tell-tale signs of a phishing email. If you know what to look for, you can safely protect your self from falling victim to many phishing scams.
Phishing emails are extremely common, and it is easy to fall for them. Educating yourself on the key characteristics of phishing emails is one of the best methods to protect yourself and your business. We've described some of the most common phishing email giveaways for you to look out for.
Email Content:
'Too Good to be True' Emails
Emails that promise rewards usually in return for information are rarely true. This tactic is used to convince users to open and interact with the email.
Urgent Calls for Action
Requests for personal information may be written in the email using urgent phrases such as 'now', exclamation marks, or threats and consequences if the user doesn't comply. Buttons or links may also be used to take the user to a webpage to divulge personal information. Urgency is used to scare the user into taking action, giving away information to scammers.
Incorrect Company Information
Incorrect company contact information is a sign that the email is fake. You should never use these details to contact the company. Instead, Google the company to find the correct details. You will usually have an idea if the details are fake by the location of the details. For example, a British company will usually have a British address and phone number.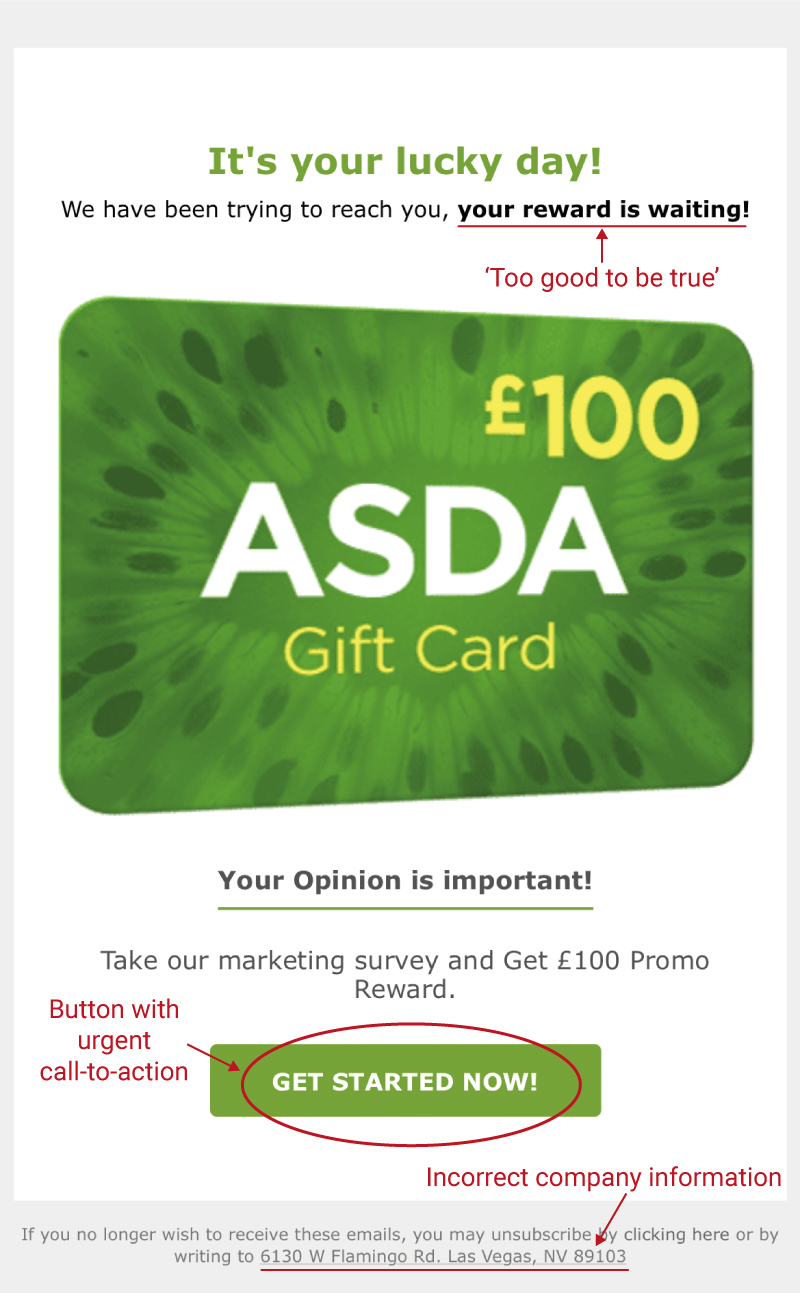 Generic Domains

Phishing emails will sometimes use generic, free email service providers. This will use domains such as Gmail, Hotmail, Outlook etc. The name of the sender may say the correct company, but you should check that the domain also matches that of the company's.
Misspelled Domain

You should look carefully for small changes to the name or email address such as replacing letters with numbers of symbols such as replacing an 'L' with a '1', or replacing an 'O' with a '0'. Users that briefly glance at the email may miss small details like these.
Other Things to Look For:
Impersonal Greetings & Bad Grammar

A legitimate company will usually use your name to address emails as they will have access to your account with these details. Generic greetings are usually a sign that the sender is sending a large number of emails to unknown recipients. Bad spelling and grammar is also a sign that the sender is fake as legitimate companies will use software to check and correct these.
Suspicious Attachments

Fraudulent emails may send attachments that look like they are real but can contain malware that infects your device. You should not open any attachments from suspicious email accounts. You should also not open any unexpected email attachments from known senders in case their email account has been breached. If you are not sure, you should call to check.
If you think you have received a phishing email, you should delete it. Do not interact with the email by clicking any links or replying to it. If you are not sure if the email is fake, call the sender to check.
If you want to reduce the number of phishing emails you receive, you can use a spam filter. Find out more about Carrera UK's antispam service here.
About Carrera UK
Carrera UK provide IT support, IT services, and telecoms to small businesses in Portsmouth & Southampton in Hampshire, and across the South of England.
We offer a complete suite of IT and telecoms service solutions for small and medium-sized businesses, including IT support, broadband, home working support, business phones, and websites.
We know how important IT is to your business and we will work hard as your trusted IT and telecom service provider to find the best solutions for you. Our IT support and solutions give you the assurance that your business technology will be robust, reliable, and cost-effective.