Windows 11 is the latest operating system from Microsoft and is the first major update in six years. With promises of a new appearance and improved features, we have outlined the key changes from Windows 10 to Windows 11.
Windows 11 was launched on the 5th of October this year for some devices with the rollout for all devices expected before the end of 2022. As Microsoft Silver Partners, we, at Carrera UK, were excited about the new release and testing the new features. Microsoft stated that there would be improved user navigation and customisation with an updated design and an emphasis on increasing focus and work productivity for users of Windows. With the new operating system comes new system requirements: 4 gigabyte RAM, 64GB storage, and TPM version 2.0 to name a few. This means that it is unlikely that any devices built before 2018 will be eligible for the free upgrade, and so will continue to run on Windows 10. We upgraded a couple of PCs in our office to try out the new features. With these system requirements, we expected to see major changes after completing the update. We have outlined some of the key changes we noticed after upgrading to the new Windows 11 operating system.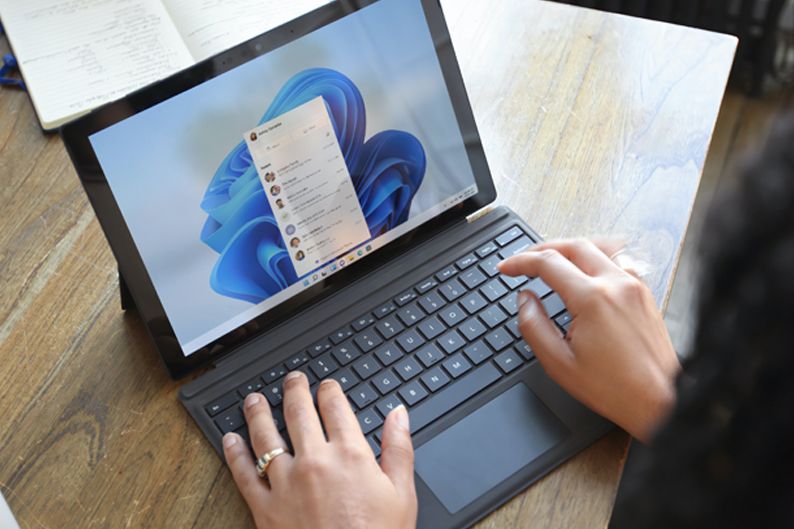 Windows 11 Design
The first and most obvious change to Windows is the new design of the interface. The lighter colours and rounded corners of windows makes it seem more like a Mac iOS interface than Windows 10, and creates a cleaner, simpler look. This is also the first time that the Start menu button will not be in the bottom-left of the screen by default since Windows 95. In Windows 11, the Start menu and pinned icons are all located in the centre of the Taskbar. Panos Panay, the Chief Product Officer at Microsoft has stated that putting the Start menu in the centre of the screen "puts you at the centre. It's what you need, closer to you". Surprisingly, it did not take us long to get used to the menu's new position, and it does improve the look of the interface, but whether it is more helpful in the new position is yet to be decided. The position of the Start button changes depending on how many programs you have open. That does take some more getting used to as you may find yourself moving the mouse to different places on the Taskbar each time to click it. However, the system does allow you to change the alignment of the Start button so you are able to move it back to the bottom-left corner if it does become an issue.
The File Explorer has also received a redesign with a simplified top ribbon and new icons to help you distinguish between folders. Users of Windows 11 will also notice that the options in the right-click menu have also been reduced, showing only the most-used options, and of course with the option to show more menu items. These simplified features make the File Explorer seem less busy and less distracting than that of Windows 10.
Desktops
Windows 11 makes it much easier for users to create multiple virtual desktops, that can be easily accessed from the Taskbar. This means that it is easy to switch between desktops created for work, personal, school or gaming use. Whilst this feature is useful for heavy users, it could also be useful for those that want to keep different aspects of their life, or even different users, separate on their devices. However, for those who use their devices lightly or infrequently, this feature may be unnecessary.
Teams
Microsoft Teams is integrated directly into Windows 11, making it easier to access through the Taskbar. In July 2021, Microsoft Teams had 250 million monthly active users, up from 75 million in April the previous year – whether this integration has always been planned into this upgrade or if it is a result of the app's rapid growth is unknown. With a sharp increase in the number of people working remotely and using hybrid working, it is expected that this feature will be useful to most of the working population using Windows 11, but for those that use their PC purely for personal use, this feature may be redundant.
Snap Layouts
Snap layouts are not a completely new feature – snapping layouts to opposite sides of the screen to create a split-screen has been available since Windows 7 – but updates for Windows 11 allow the user to use this feature more easily. Users can move a window to a section of the screen by hovering their mouse over the Maximise/Minimise button, and then choosing a layout. This feature also allows users to minimise or maximise multiple windows within a snap group at once. Like the virtual desktops, this feature is most useful to heavy users or multitaskers.
Widgets
Like Snap Layouts, Widgets are not a new concept, but they have been improved by a greater level of customisation for Windows 11. The new operating system uses AI to show information such as news, weather, calendar items, and recent photos. This is similar to Windows 10's 'News and Interests' feature but can now be accessed from the taskbar and with a higher level of flexibility. At the time of writing, we found that this feature was still limited – there was not much choice for widgets available to use in this section. We expect that this feature will be built upon with future updates, perhaps there will even be an integration with Android apps when they are launched on Windows 11.
Our Verdict
With relatively high system requirements for the upgrade, we expected to see some major changes in the new Windows 11 operating system. Whilst we were impressed with the new interface have found the new system slightly easier to use and navigate around, if you can look past the redesign with the rounded corners and the Start menu in a new position, most users probably won't notice too much difference from Windows 10. Although there are not any major changes for the standard user, it is likely that the system requirements are in place to future-proof the system and are in our opinion, in line with the standard rate of technological change: they are usually standard in most new PCs, and devices that do not meet these requirements will still be able to run on Windows 10 for the next 3-4 years.
Of course, users that use some specific features will notice a big change. Some features have been removed from the system, but most can easily be added with some settings changes or have been replaced with an alternative. For Example, Cortana voice assistant isn't preinstalled or pinned to the Taskbar by default but is available to download and install.
As with most major updates, it is expected that there may be a few teething issues in the early months of the launch. We recommend that you do not upgrade to Windows 11 just yet. Whilst we are not anticipating any major issues with the new operating system, we would encourage Windows users to wait until any small issues found during the initial launch phase have been ironed out. With further, smaller, updates to fix these issues will also come additional features – some features advertised in the June 2021 Windows 11 event have yet to be added to the operating system such as Android Apps in the Microsoft Store. If you wanted to run the update specifically for these features, it may be best to wait until they are available. Microsoft has said that support for Windows 10 will continue until 2025, so there is no rush for an immediate upgrade.
If you have updated your PC recently and are having problems, you would like to upgrade to try out the new features, or you would like to find out if your device is compatible with Windows 11, contact our IT Support Team.
About Carrera UK
Carrera UK provide IT support, IT services, and telecoms to small businesses in Portsmouth & Southampton in Hampshire, and across the South of England.
We offer a complete suite of IT and telecoms service solutions for small and medium-sized businesses, including IT support, broadband, home working support, business phones, and websites.
We know how important IT is to your business and we will work hard as your trusted IT and telecom service provider to find the best solutions for you. Our IT support and solutions give you the assurance that your business technology will be robust, reliable, and cost-effective.