Your email signature is an important element of your business communications. It introduces the person behind the emails and provides crucial contact information. It also should be a good representation of your business and what it stands for. Here's why your email signature is crucial for your business:
Brand Recognition
An email signature that is consistent with your business's branding helps establish a relationship with your customers and prospects. The consistency with your business's logo, website, and information conveys a sense of quality and trust. Your email signature serves as a branding tool that helps establish and maintain a consistent image throughout all your communications. A strong brand conveys trustworthiness and expertise among your customers and prospective customers, as well as helping you stand out from your competitors.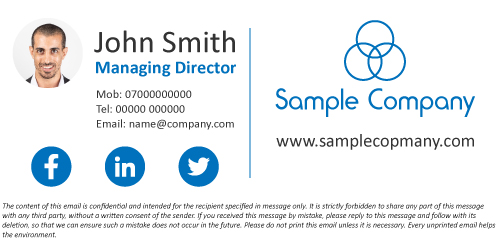 Contact Details
Your email signature acts as a digital business card. It provides vital contact information to your contacts including your business name, phone number, website URL, and social media links. Customers and business partners are able to quickly and easily find this information without searching for it online. By keeping your contact information is up to date in your signature, you are ensuring that you do not miss out on business opportunities due to out-of-date contact details.
Showing Professionalism
An email is often the first form of communication your business has with prospectus clients or partners, so it is important that it best represents your brand. Your signatures should look clean and tidy so they are easily read, and contain the correct information. If an email looks unprofessional, then the sender may not be taken seriously. It is therefore important that your email signature portrays your brand and accurately.
Marketing
Your email signature is a great marketing opportunity that can be used to promote your business, your products and your services. Not only can it contain direct links to your website and social media encouraging your customers to visit, you can also add banners with information about your latest promotions and offers.
Whilst it is often overlooked, the importance of proper email signatures cannot be overstated. It is vital that all of your employees and other associated email addresses display the correct and consistent signature to maximise the benefits to your business.
To ensure that your employees use consistent email signatures, and to reduce the risk of your legitimate emails from being caught in spam filters, contact us about cloud-hosted email signatures.
About Carrera UK
Carrera UK provide IT support, IT services, and telecoms to small businesses in Portsmouth & Southampton in Hampshire, and across the South of England.
We offer a complete suite of IT and telecoms service solutions for small and medium-sized businesses, including IT support, website design, social media management and cyber security.
We know how important IT is to your business and we will work hard as your trusted IT and telecom service provider to find the best solutions for you. Our IT support and solutions give you the assurance that your business technology will be robust, reliable, and cost-effective.