Quizzes and posts on social media that reveal which 'Friends' character you are, where you and your friend should go on your next holiday, or tagging your mum in a post to show how much you care, may seem harmless but can actually cause a breach of your personal data leading to your account being hacked.
Online personality quizzes are common on Facebook and other social media networks. But whilst you answer fun questions about your pets, your job, or your family, how often do you think about where your personal information is going? Do you read the privacy policy of these third-party quiz apps?
Whilst not all online quiz creators will misuse your information, the information you provide in online quizzes may be stored or passed on to other companies. As well as this, third-party apps may also ask for access to your Facebook account where they can see you interests, where you live, and who you are friends with. If this data is misused, it could be used in hacking your accounts or even fraud.
Usually, you can only find out how these companies use your data by reading the privacy policy or terms & conditions. Unless you are willing to check this for every quiz you participate in, you should be extra careful when answering quiz questions about your personal information.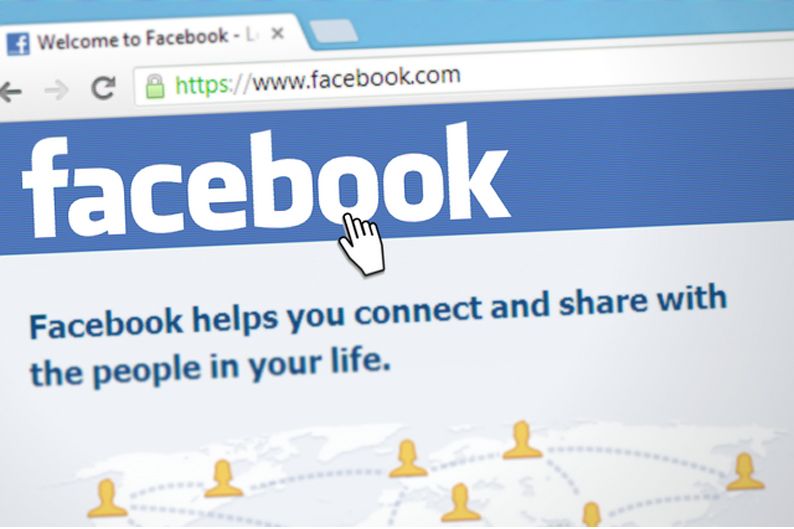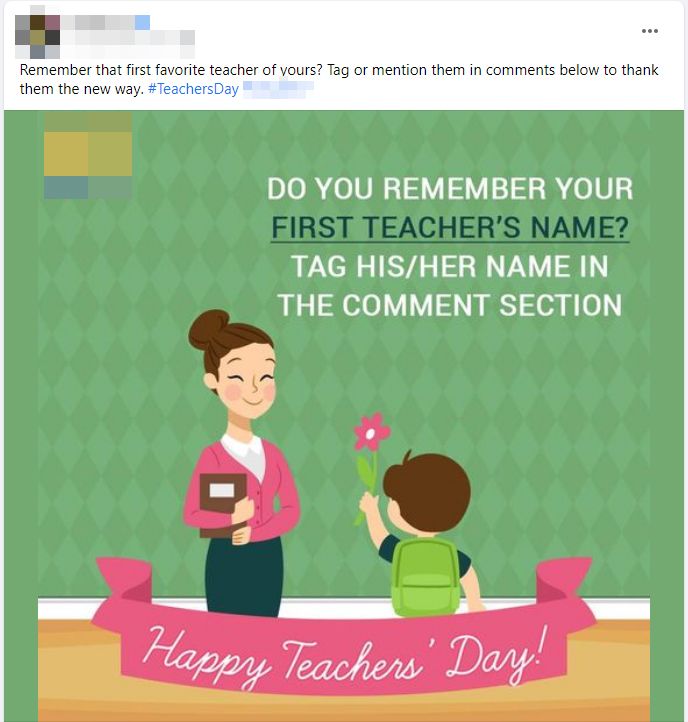 Posts from public pages are also a common cause of a data breach on social media. Here is an example of a post that may seem like a harmless way of showing appreciation for teachers; you may have seen a similar one on your own Facebook newsfeed. In the comments section on posts like these, you will find hundreds of people publicly posting the name of their first teacher – a very common security question for accounts such as banks, insurance, or social media. Even tagging your mum or grandmother in a post can reveal too much about your identity if this leads to strangers finding out your mum's maiden name, which is also a common security question.
Hackers can use comments on posts like these to find the answers to your security questions and hack your accounts. They may even create pages to post photos like these themselves. These posts are public and can usually be viewed by anyone that happens to see this photo, this includes every comment containing the answers to security questions. If you want to comment on posts like these, ensure that the information that you share is not the same information that you have used for security questions or passwords. If you are not sure, it is best not to comment at all. Although quizzes and posts like these may seem like a fun way to pass the time, you should think twice before sharing any information publicly.
About Carrera UK
Carrera UK provide IT support, IT services, and telecoms to small businesses in Portsmouth & Southampton in Hampshire, and across the South of England.
We offer a complete suite of IT and telecoms service solutions for small and medium-sized businesses, including IT support, broadband, home working support, business phones, and websites.
We know how important IT is to your business and we will work hard as your trusted IT and telecom service provider to find the best solutions for you. Our IT support and solutions give you the assurance that your business technology will be robust, reliable, and cost-effective.