Responsive websites will scale content on the page depending on what device is being used to view that website. It ensures that text is not too small on mobile phones, and images do not extend past the edge of the page. It is important that visitors can view your content easily, without having to spend the extra time zooming and scrolling on the page.
A website that is responsive can increase the amount of business you gain from your website. Visitors who can easily access and use your website on mobiles and tablets are likely to spend a longer time on your website, reading your content, and learning about your business. As well as this, since 2015, Google has used how mobile-friendly your website is as a factor in ranking websites in search results – websites that are easy for visitors to use on mobile phones are scored higher than those that are not.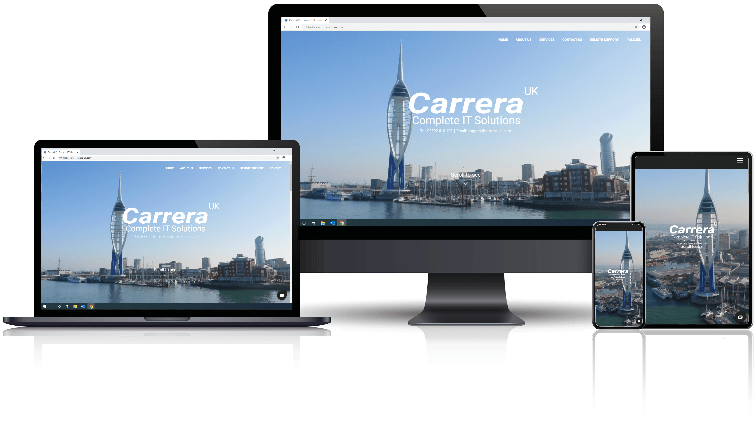 You want to make your website accessible on all screen sizes to maximise your audience and a responsive website will create a more positive experience and impression of your business than one that is not. If you want advice on making your website responsive on all screen sizes, speak to our web team.
About Carrera UK
Carrera UK provide IT support, IT services, and telecoms to small businesses in Portsmouth & Southampton in Hampshire, and across the South of England.
We offer a complete suite of IT and telecoms service solutions for small and medium-sized businesses, including IT support, broadband, home working support, business phones, and websites.
We know how important IT is to your business and we will work hard as your trusted IT and telecom service provider to find the best solutions for you. Our IT support and solutions give you the assurance that your business technology will be robust, reliable, and cost-effective.