The traditional way of delivering phone calls using local numbers on landlines is becoming a thing of the past. Business phones services have to change with the times and move into the digital era, in order to keep up with customer demands for lower costs, and increased flexibility in how they use their voice communications.
Virtual phone systems have started to become a lot more prevalent. The ability to deliver calls over the internet, rather than traditional landline telephony, has enabled companies to start moving away from big expensive PSTN lines and instead operate from a broadband connection.
Many of our clients have recently made the switch from traditional telephony to our hosted telecoms solution: VoIP – the latest in business telephony. VoIP allows you to make low-cost telephone calls (VoIP calls) over the internet meaning that you no longer have to use an outdated landline. VoIP phone systems are suitable for all business sizes.
Here are some key benefits of VoIP business hosted telephones: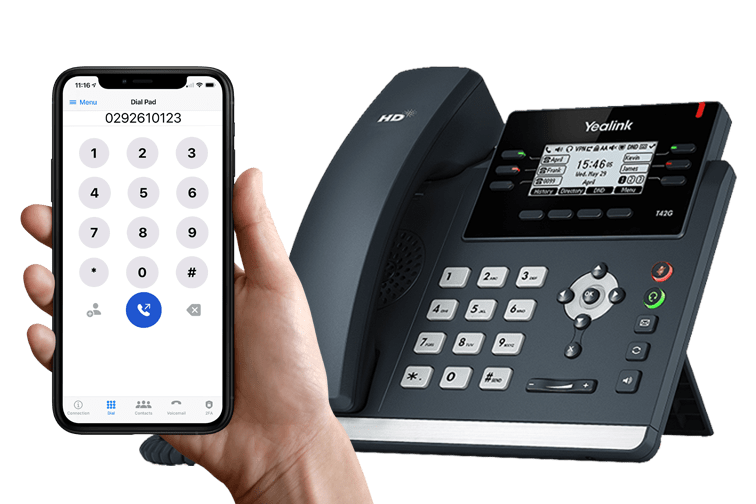 Cost Saving
VoIP is a low-cost alternative to a traditional landline telephone system. Using the internet to make calls, it can reduce your business running costs by eliminating the need for separate landlines.
Scalability
As VoIP systems use the internet, it is easy to add and remove users. This means your telephony system can grow with your business as and when you need it.
Flexibility
Delivering calls over the internet enable ultimate business flexibility enabling extensions to be distributed across sites, home workers, and remote workers using laptops or mobile devices.
High Quality
Calls made by VoIP telephone systems are HD quality, clear and crisp surpassing the quality of traditional landlines.
Reliable
A common concern regarding VoIP telephony systems is that if the internet stops working, the phones will stop working. This is easily prevented and resolved by using backup internet lines and automatic mobile forwarding.
Extensive Features
VoIP telephony systems have a wide range of features that are unavailable or expensive to add to traditional landline phones. These include: call forwarding and transfer; simultaneous ringing; conferencing; auto attendant; call park/call pickup, and do not disturb features.
Find out more about Carrera UK's Telecom services and Business Hosted Telephones here.
About Carrera UK
Carrera UK provide IT support, IT services, and telecoms to small businesses in Portsmouth & Southampton in Hampshire, and across the South of England.
We offer a complete suite of IT and telecoms service solutions for small and medium-sized businesses, including IT support, broadband, home working support, business phones, and websites.
We know how important IT is to your business and we will work hard as your trusted IT and telecom service provider to find the best solutions for you. Our IT support and solutions give you the assurance that your business technology will be robust, reliable, and cost-effective.